Miracle Valley is known for tremendous miracles and healings that occur. Not only has God moved in the past with the miraculous, but He is still moving in a mighty way at Miracle Valley.
According to the Gospel of Matthew Chapter 4 and Verse 23, "And Jesus went about all Galilee, teaching in their synagogues, and preaching the gospel of the kingdom, and HEALING ALL MANNER OF SICKNESS AND ALL MANNER OF DISEASE AMONG THE PEOPLE."
In the Acts of the Apostles, Chapter 10 Verse 38, "How God anointed Jesus of Nazareth with the Holy Ghost and with power; who went about doing good, and HEALING ALL THAT WERE OPPRESSED OF THE DEVIL; for God was with him."
In the Book of Hebrews, Chapter 13 and Verse 8, "JESUS CHRIST THE SAME YESTERDAY, TODAY, AND FOREVER."
And then in the Book Malachi Chapter 3 Verse 6 (a), "FOR I AM THE LORD, I CHANGE NOT . . ."
Listen to the testimonies of the people who received their miracle and/or healing at Miracle Valley.
All you need to do is simply click the corresponding picture.

Dr. Robinson interviews Rev. Jim Sells of North Carolina regarding the Lord sending him to pray at Miracle Valley.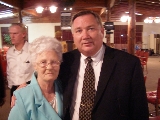 Dorain Price from Topeka, Kansas received her miracle at Miracle Valley on July 22, 2007. This is her testimony.

Rev. Danny Phelps gives his testimony of how God gave him a miracle regarding his eating food. He is pictured above, working on the roof of the large Miracle Valley tabernacle.

Tom & Ruth Burklelow came to Miracle Valley from Indiana in order for their great-grandson Jacob to receive a special miracle from God. These testimonies were given on Sunday, July 22, 2007 and Tuesday, July 24, 2007.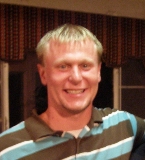 Jared Ellis gives his testimony of deliverance from drug addiction and bondage at Miracle Valley on Sunday, July 22, 2007.